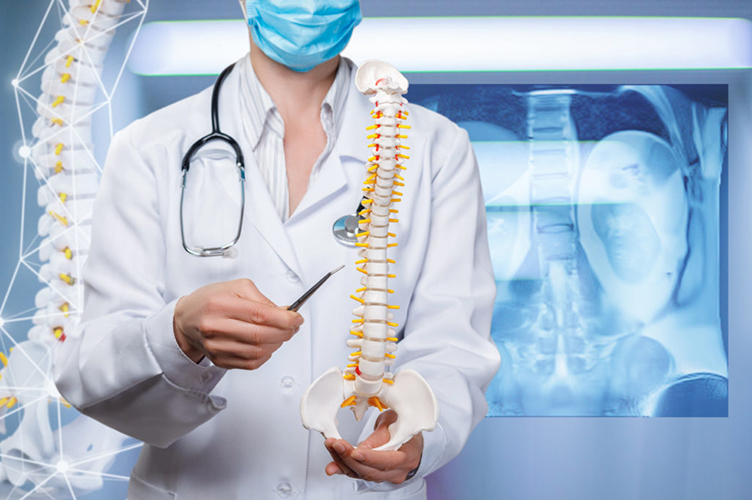 Leading Hospital For Spine Surgery In Howrah
Spine surgery is the medical specialty concerned with the prevention, diagnosis, treatment and rehabilitation of disorders which affect any portion of the nervous system including the Vertebra, Intervertebral discs, spinal cord, peripheral nerves and para spinal structures.
Our team of highly competent, dedicated, qualified and experienced Spine surgeons specialize in various types of surgery for comprehensive management of diseases and disorders of the spine.
The Spine Surgery department aims at excellence in care through practice of evidence-based medicine and treatment according to international protocols. Patients are kept fully informed throughout their treatment and they receive complete support and encouragement from our consultants. We are dedicated in providing the best spinal treatment to our patients at an affordable cost. The provision of care encompasses a wide range of cases which includes but are not limited to the following.
The treatments & procedures of the Spine Surgery Department include:
Minimally Invasive Spine Surgery.
Surgery for Slipped disc in the neck or lower back.
Microscopic Lumbar Discectomy or Decompression.
Microscopic Anterior Cervical Discectomy & Fusion.
Tubular Discectomy.
Endoscopic Discectomy.
Spinal Decompression with or without Fusion.
Transforaminal Lumbar Iinterbody Fusion (TLIF) Surgery for spondylolisthesis.
Minimally-invasive Spinal Fusion and Advanced Instrumentation.
Cervical Total Disc Replacement Surgery.
Posterior Spinal Instrumentation.
Surgery for Spinal Trauma.
Surgery for Spine Tumors.
Other Spine Surgeries.
TB Spine – Thoracoscopic Spinal Surgery with Para-spinal Abscess Drainage.
Paediatric Spine surgery.
Osteoporotic Fractures of the Spine.
State of the art Spine Surgery operation theatre.
C-Arm.
Midas Rex high-speed drill system.
Spine endoscope.
Radiolucent Quadrant MISS system.
Accessories for minimally invasive Spine surgery.
24 X 7 Emergency services.
Complete in-house imaging services. (MRI, CT scan, Colour Doppler, X-ray, USG)
Physiotherapy & Rehabilitation.
DR. D. K. JAISWAL
(MBBS,D OTHO CAL, FELLOW SPINE SURGERY
MONDAY, THURSDAY 12:30 P.M – 1: 00P.M
DR SRI KRISHNA MAJHI MBBS MS MCH ( NEURO) MON SAT BY APPOINTMENT

For bookings and further details call: 03326415831, 03326415809